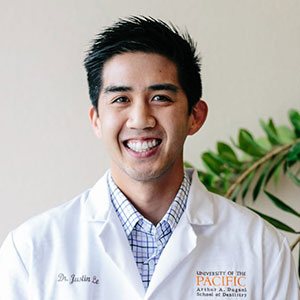 Justin Le, D.D.S.
Dr. Justin Le is a graduate of the University of the Pacific Dental School in San Francisco, one of the best in the country. He is a dentist that believes that each patient is unique and strives for the best quality in dental care for each individual.
His emphasis on patient comfort as well as keeping up-to-date with the latest advancements in dentistry enable him to provide his patients with the best quality of care in the field. Dr. Justin Le has a wide range of experience in different areas of dentistry, from cosmetic and restorative dentistry to surgical treatments and root canal treatments.
His approach to your treatment starts with patiently listening to you and learning about you as a person. Then, after a complete and thorough examination, he reviews and personalizes the treatment, so it fits your needs and comfort, offering various treatment options and making sure you completely understand what is required for the treatment to be a success.
He really enjoys working with all his patients, including kids. In his spare time, he enjoys spending time with his family and walking all three of his dogs.
"I believe in treating the person, not just the teeth. Each person has their own unique history that involves not only his or her oral health condition but his or her overall health condition. My goal is to make you feel as comfortable as possible and know me as a person as I get to know you. My main purpose is to put you in a dental state better than when you came in."
- Justin Le D.D.S.
Membership and Affiliations:
American Dental Associations
California Dental Association
Santa Clara Dental Society
Spear Study Club
Dr. Le is a part of one of the largest Bay Area study clubs, Spear Study Club, where practitioners meet to improve their clinical expertise. This club emphasizes excellent dentistry.