Best Dentist for Dental Implants in San Jose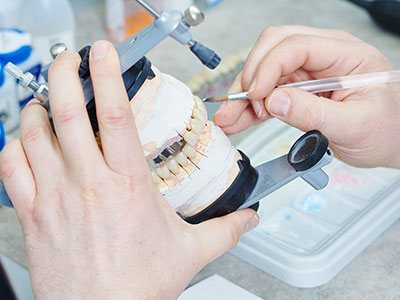 The bone structure starts to dissolve in absence of tooth roots. This affects the face contour and jaw. Dental implants are metal posts that are placed in the jaw to mimic the original tooth. Considered as the best aesthetic and permanent solution for missing teeth, they look and feel natural.

An incision is made to place the metal post in the jaw. Implants, made of titanium, a biocompatible material, fuse with the bone structure through osseointegration. A few weeks later, a metal abutment or screw is attached to the implant. This abutment acts as an anchor to hold the different prosthesis in place.
What are the types of Dental Implants?
Restoration with Crowns
Using an implant, single or multiple teeth can be restored with a crown. A custom-made porcelain crown is attached to the abutment. Your dentist will make sure that the color of the abutment and the crown blends well with the adjacent teeth.
Restoration with a Bridge
Bridges are used to restore multiple teeth. Several crowns are created and are fixed to a bridge. It contains a pontic, to which one or more crowns are attached. The bridge is held in place by an implant.
Restoration with a Hybrid Denture
A denture can replace a few or all of your teeth. It is a tray with artificial teeth and needs to be worn on daily basis. Traditional dentures make noise and are uncomfortable. Dental implants can permanently hold the denture in place. This eliminates the need to remove the denture for cleaning and flossing. Multiple incisions are made in the jaw to place four or more implants. Abutments hold a metal framework that is permanently fixed to the denture.
Visit El Paseo Dental or schedule an appointment with Dr. Justin Le to get your natural smile back! 408-370-0101