Custom, natural-looking partial and full dentures at El Paseo Dental in San Jose
Replacing missing teeth is necessary for aesthetic and restorative reasons. Dentures support facial muscles and protect the facial contour. They are custom-made for high levels of comfort and ease.
What are the types of Dentures?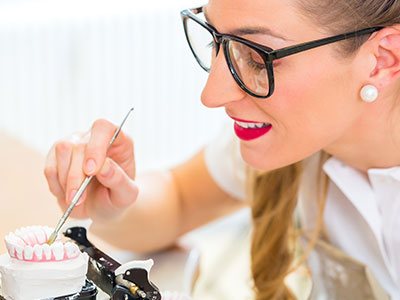 Partial Dentures
Partial dentures are devised to restore missing teeth in a row. A metal framework, attached to the natural teeth, is used to hold the denture in place. Crowns are placed on either side of a fixed bridge to attach artificial teeth and act as anchors. The bridge is then cemented in place. Partial denture helps you get rid of unnecessary gaps and prevent teeth from changing positions. Partial dentures are of two types:

Fixed Dentures:The bridge is permanently cemented to the jaw with a dental crown or it is attached below the gums using dental implants and abutments.

Removable Dentures: Artificial teeth are attached to a gum-colored pink plastic base. This gum-colored plate can be removed for cleaning and while sleeping. Removable partial dentures are more aesthetic in nature.
Full Dentures
Full dentures are for the people who have faced a major tooth loss. They replace all the teeth in the mouth. Full dentures fasten on to the gum line to stay in place and can be surgically planted onto the gum using dental implants and metal screws. They possess a full set of porcelain teeth and are attached to a plastic base that mimics the natural color of the gum. Complete or full dentures are of two types:
Conventional Denture:
A conventional denture is placed in the mouth 12 weeks after the removal of teeth. The patient stays without teeth during the healing period. A temporary and removable denture is provided to carry out basic activities.
Immediate Complete Denture:
Your dentist will take impressions and exact measurement of your teeth beforehand. After removing the remaining teeth, an immediate complete denture is directly positioned in the jaw. The patient doesn't need to stay without teeth during the healing period.
Schedule an appointment with Dr. Justin Le now to restore your smile. Visit El Paseo Dental or call us at 408-370-0101.