Best Invisalign treatment at El Paseo Dental, San Jose
Metal braces can leave you feeling sore in the mouth and affect your appearance. Invisalign is a modern cosmetic dentistry approach and an aesthetic alternative to traditional metal braces. They are virtually invisible and help in straightening teeth by treating overbite, underbite, crossbite and spacing. Minimally invasive, Invisalign restores the smile and induces self-esteem.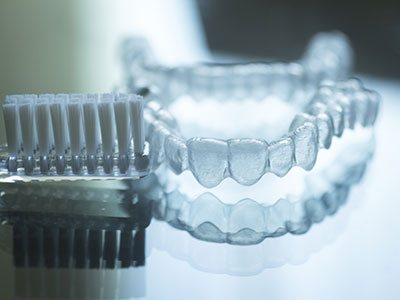 Your dentist can determine whether you are a suitable candidate or not. The treatment will begin with a 3D scan of your teeth that helps in    creating a 3D image of your bite. Your doctor will then use a computer model to demonstrate the movement of your teeth and also the final    position.

Unique and invisible trays are custom-made to fit your teeth perfectly. The trays need to be worn in a particular order, week by week. Invisalign       braces apply little amounts of pressure on your teeth and shift them gently and gradually. The constant horizontal and vertical movement of your       teeth pushes them towards the final position.
What are the Advantages of Invisalign over Traditional Braces?
Can be removed during flossing, brushing and for meals.
You don't have to abstain from sticky food items.
The clear aligners are soft and don't irritate the gums and cheeks.
Save your time by reducing the dental visits to once every four weeks.
Being virtually invisible, they protect the aesthetics of your mouth.
Allow you to indulge in sports of your choice without the dread of sharp wires and brackets wounding your mouth.
Schedule an appointment right now with Dr. Justin Le in San Jose, CA. 408-370-0101